My Tangle Patterns
Check out-
Fresnel – (the 's' is silent – prounounced 'fre-nel').  This is a pattern created by the Wisconsin Tangle Artists Coalition, a group that I am honored to have co-founded a couple of years ago with my Zentangle co-conspirator, Katie Butler, CZT.  This is a group of awesome, lovely people who enjoy learning, sharing, teaching and encouraging each other in our Zentangle adventures.
Earlier this year, I created a game called 'Build-a-Tangle' where one person starts with a couple of strokes and another person adds a couple, etc until we have a new tangle.  Here is our new one called 'Fresnel'.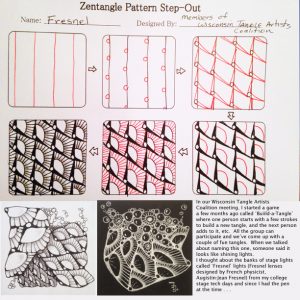 ZipUp! This I credit as a variation of Jane Monk's Zipit pattern.
Ty-Downz.  Came to me seeing several trailers packed for moving.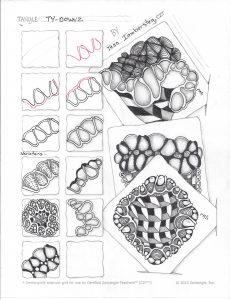 Breakrz. Inspired by the waves on the lakes where we kayak.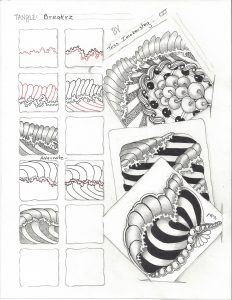 GUGUS  – pronounced (goo-goos) — Gugus is a Swiss German expression meaning 'Silliness'. Kind of appropriate and fun.